Macbeth - William Shakespeare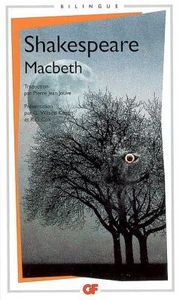 Résumé de l'éditeur
Le général écossais Macbeth revient du combat où il a vaillamment défendu son seigneur Duncan quand, en pleine lande, trois sorcières apparaissent et lui annoncent qu'il deviendra roi. Lorsque Duncan lui rend visite pour le récompenser de sa bravoure, Macbeth, hanté par la prédiction des sorcières et poussé par sa femme, tue son hôte et s'empare du pouvoir. En proie au remords, le couple sombre peu à peu dans la folie...
Mon avis
Je n'ai peut-être rien compris, mais en effet je n'ai absolument rien compris à cette pièce. Je n'arrêtais pas de confondre les personnages, je ne me rappelais plus de qui voulait quoi et de qui avait tué qui. J'ai même confondu Lady Macbeth avec son mari, c'est dire !
Et puis quand il est mort, tout ce que j'ai pensé, c'était "bien fait" alors que d'habitude, je suis toujours triste. Même pour les méchants. (sauf celui de Sally Lockhart, mais lui il était vraiment vraiment méchant, mais bref)
Allez, quand même, j'ai bien aimé la chanson des sorcières, que je vous mets juste pour le plaisir, en version originale, parce que ça rime (donc c'est mieux)
First Witch
Round about the Cauldron go;
In the poison'd Entrails throw.
Toad, that under cold stone
Days and Nights has thirty-one
Swelter'd Venom sleeping got,
Boil thou first i' the charmed pot.
All
Double, double toile and trouble ;
Fire burn and Cauldron bubble.
Second Witch
Fillet of a Fenny Snake,
In the Cauldron boil and bake;
Eye of Newt, and Toe of Frogge,
Wool of Bat, and Tongue of Dogge,
Adder's Fork, and Blind-worm's Sting,
Lizard's leg, and Howlet's wing,
For a Charm of powerful trouble
Like a Hell-broth boil and bubble.
All
Double, double toyle and trouble,
Fire burn and Cauldron bubble.
Third Witch
Scale of Dragon, Tooth of Wolf,
Witches' Mummy, Maw and Gulf
Of the ravin'd salt Sea shark,
Root of Hemlock digg'd i' the dark,
Liver of Blaspheming Jew,
Gall of Goat, and Slips of Yew
Silver'd in the Moon's Eclipse,
Nose of Turk, and Tartar's lips,
Finger of Birth-strangled Babe
Ditch-deliver'd by a Drab,
Make the Gruel thick and slab:
Add thereto a Tiger's Chaudron,
For the Ingredients of our Cauldron.
All
Double, double toyle and trouble'
Fire burn and Cauldron bubble.
Bref, pas franchement une déception, mais disons que je le relirai dans quelques années pour voir. :)
Share this post